Vector Art.
I decided to talk a bit about an interesting style that can be very useful and helpful when it comes to printing big formats, vector art.
In this case, my client needed something with Brazilian themes and to print it over 12 meters high.
He gave me some pictures in a very low resolution that wouldn't be enough for such big impression.
Finding a similar image and in a high resolution was very complicated also very expensive. So, why not illustrate that picture?
I could make it very real or add new elements also a new artistic style!
No doubts about that this technique can be time-consuming and requires a little patience but I particularly like the final results.
Few words a bit about this illustration, it was made in Adobe Illustrator. I started with the original photo and the first lines are the broad contours, after having defined the contours for the lights and shadows, without colors, contours only.
With whole picture drawn with lights and shadows. I moved the original image out of the new lines but close enough to start coloring the inside using the original one as parameter.
At this point I started adding my style and colors changes. Giving a new look and a different background.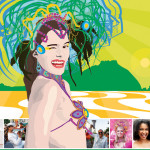 This kind of art that doesn't require much technical knowledge much less deep illustration skills. It only requires some creativity and basic illustrating software skills (Adobe Illustrator).
There are no limits on what can be created in vector art. It can be simple traces, a realistic image, 3D, traced and etc…
Learn more about vector art on: http://en.wikipedia.org/wiki/Vector_graphics 
Free vectors for download: http://vector4free.com
Share