Live in Poland and do not notice the traditional Polish patterns around is almost impossible, especially attending touristic point.
You can find almost everything like cups, bags, caps, cups, pins, t-shirts and hundreds of gadgets painted with this beautiful and colorful patterns.
This folk art has a name (not easy to pronounce I may say):
Vytynanky – Wycinanki
The Polish patterns became popular folk craft in the mid-1800s. Originally it was made with barks of trees and colorful leather. The designs and colors vary from region to region and can also be monochrome those of "Kurpie".
Its geometric shapes, colors, symmetry and the mirror effect makes this art impossible to do not be noticed.
It can be made with many kinds of materials and techniques, including, as I did myself, in vector art.
This is one of many Polish symbols helping spread the local history, traditions and culture around the world.
Kurpie style:

Portuguese :
Viver na Polônia e não notar as tradicionais pinturas coloridas, que sempre estampa quase todos os produtos vendidos para turistas é quase impossível.
Porém não é para menos, é uma forma de arte muito tradicional, folclórica e rica.
O que mais me chama atenção são as formas geométricas, muitas cores, simetria e a natureza espelhada dos desenhos.
A arte chamada de "wycinanki" tornou-se popular na Polônia em meados da década de 1800. Originalmente era feita com cascas de arvores e couro colorido. Os desenhos e cores variam de região para região podendo ser também monocromáticos como os de "Kurpie".
Pode ser feito com diversas técnicas e materiais, inclusive como eu fiz na forma de vetor arte.
Esse é mais um símbolo polonês que ajuda a difundir a história local e as suas tradições.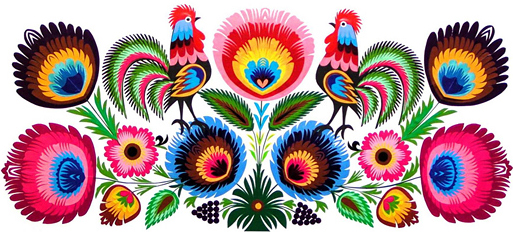 <stromage: http://naludowo.pl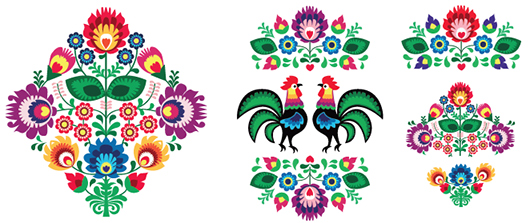 Source:
http://en.wikipedia.org/wiki/Vytynanky_(Wycinanki)
Share
Vector Art.
I decided to talk a bit about an interesting style that can be very useful and helpful when it comes to printing big formats, vector art.
In this case, my client needed something with Brazilian themes and to print it over 12 meters high.
He gave me some pictures in a very low resolution that wouldn't be enough for such big impression.
Finding a similar image and in a high resolution was very complicated also very expensive. So, why not illustrate that picture?
I could make it very real or add new elements also a new artistic style!
No doubts about that this technique can be time-consuming and requires a little patience but I particularly like the final results.
Few words a bit about this illustration, it was made in Adobe Illustrator. I started with the original photo and the first lines are the broad contours, after having defined the contours for the lights and shadows, without colors, contours only.
With whole picture drawn with lights and shadows. I moved the original image out of the new lines but close enough to start coloring the inside using the original one as parameter.
At this point I started adding my style and colors changes. Giving a new look and a different background.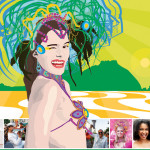 This kind of art that doesn't require much technical knowledge much less deep illustration skills. It only requires some creativity and basic illustrating software skills (Adobe Illustrator).
There are no limits on what can be created in vector art. It can be simple traces, a realistic image, 3D, traced and etc…
Learn more about vector art on: http://en.wikipedia.org/wiki/Vector_graphics 
Free vectors for download: http://vector4free.com
Share
WordPress is a content managing system (CMS) that most web designers opt and choose it as it is the easiest, convenient to use and customize their themes. The user does not really have to be an expert in programming languages of website designing to manage or create their websites through WordPress.
It is one of the most popular blogging platforms which can easily be adapted to be used as a normal website and also an online shop (using plug-ins and professional themes).
WordPress advantages: it is very easy to install, has many free of charge theme, hundreds of professional themes with affordable prices
(Good themes samples:
http://themeforest.net and
https://www.elegantthemes.com)
easy to add and manage the content and very a fast theme customization.
It is possible to buy a new theme, to create and have a website online in less than a week. Considering the working time it is much cheaper to have it than produce a completely new website – CMS project.
Disadvantages of WordPress:
You may find a very similar website as you have!
As everyone can buy and customize its themes that is very possible to happen.
If not well seated or protected so the security is not so strong and it can be hacked.
WordPress dashboard view:
Website and CMS development.
This is a perfect and tailored solution for those who want to have a unique and exclusive website.
Advantages:
It can be 100% produced for your needs and design;
It can be integrated with other platforms and interfaces;
CMS can control all website or only specific areas;
It is tailored to your needs;
Using a good designer and code developer you will never find another website like yours!
Disadvantages:
It is a complex project developed from the scratch, which means more people involved, more time spent on it and in the end more money invested.
A project can be made in two weeks or more everything depends on a particular project and its complexity.
Website – CMS Dashboard
Share
Logos are the centerpiece of a company's brand. Your company's logo should be the symbol for everything that your company represents! When a customer sees your logo, they should be able to make the instant connection with your trade.
Simplicity! A simple logo design allows easy recognition letting the logo to be versatile and memorable. Good logos are featured with something unique without being overdrawn. Complicated logos can be visually difficult to distinguish from the distance or when the logo is printed in a small size.
The logo should be functional, for this reason, a logo should be designed in vector format, to ensure that it can be scaled to any size.
A two-color logo is ideal, but there are also good four colors logos. Just remember, your logo will be reproduced on lots of different types of promotional materials, so make sure that it is easily recognizable in full color or black and white.
If the logo is well designed, it will create the right image among the target customers which is very much needed in business.
Good logos design samples:
We can find hundreds logo – websites inspirations online like:
Share