Live in Poland and do not notice the traditional Polish patterns around is almost impossible, especially attending touristic point.
You can find almost everything like cups, bags, caps, cups, pins, t-shirts and hundreds of gadgets painted with this beautiful and colorful patterns.
This folk art has a name (not easy to pronounce I may say):
Vytynanky – Wycinanki
The Polish patterns became popular folk craft in the mid-1800s. Originally it was made with barks of trees and colorful leather. The designs and colors vary from region to region and can also be monochrome those of "Kurpie".
Its geometric shapes, colors, symmetry and the mirror effect makes this art impossible to do not be noticed.
It can be made with many kinds of materials and techniques, including, as I did myself, in vector art.
This is one of many Polish symbols helping spread the local history, traditions and culture around the world.
Kurpie style:

Portuguese :
Viver na Polônia e não notar as tradicionais pinturas coloridas, que sempre estampa quase todos os produtos vendidos para turistas é quase impossível.
Porém não é para menos, é uma forma de arte muito tradicional, folclórica e rica.
O que mais me chama atenção são as formas geométricas, muitas cores, simetria e a natureza espelhada dos desenhos.
A arte chamada de "wycinanki" tornou-se popular na Polônia em meados da década de 1800. Originalmente era feita com cascas de arvores e couro colorido. Os desenhos e cores variam de região para região podendo ser também monocromáticos como os de "Kurpie".
Pode ser feito com diversas técnicas e materiais, inclusive como eu fiz na forma de vetor arte.
Esse é mais um símbolo polonês que ajuda a difundir a história local e as suas tradições.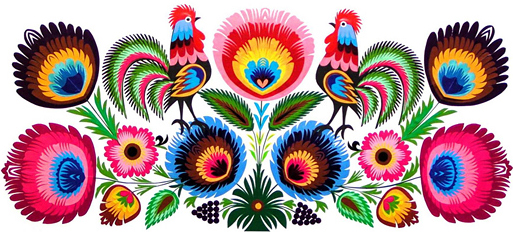 <stromage: http://naludowo.pl
Source:
http://en.wikipedia.org/wiki/Vytynanky_(Wycinanki)
Share